Residential
Ideal for Retaining Walls | Intertenancy (Party) Walls | Façade Walls | Planter Boxes | Columns | Boundary Walls | Balustrades | Pool Walls | Retaining Walls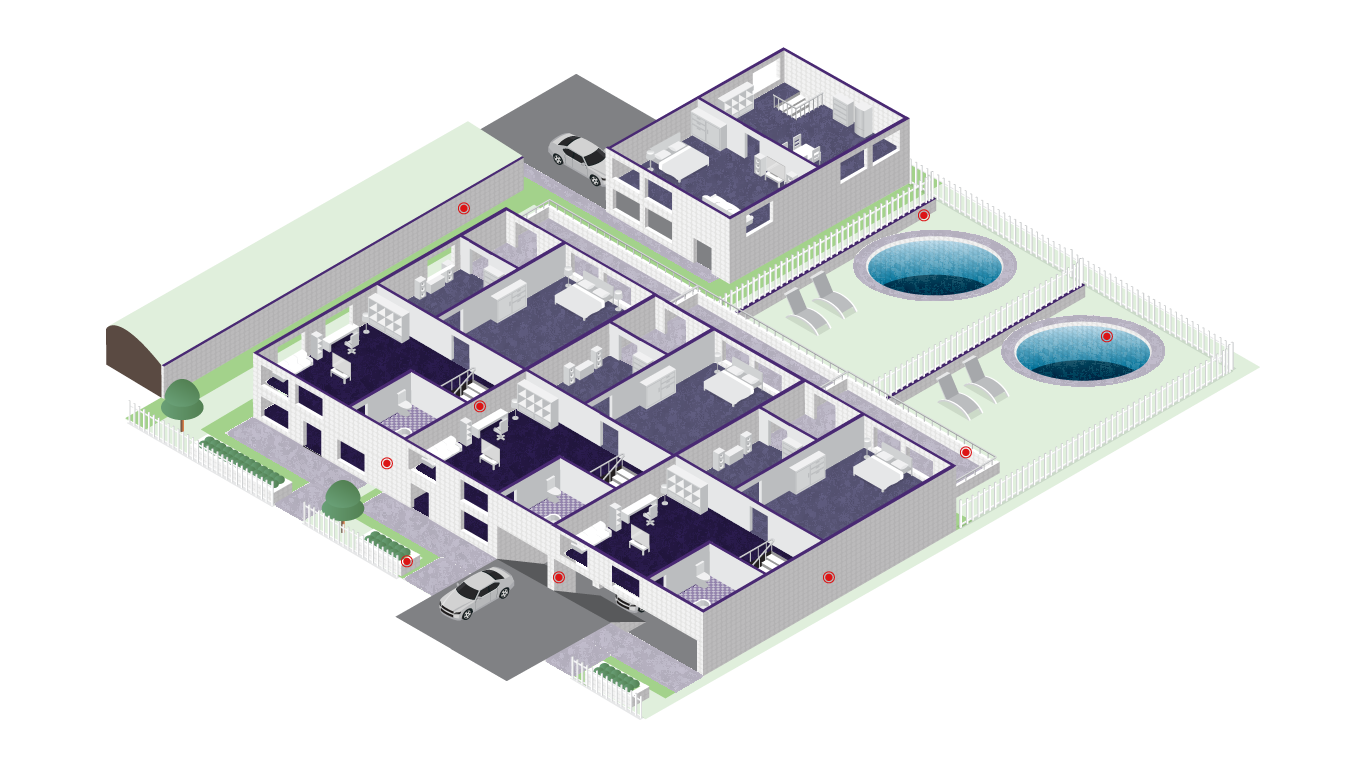 Internal Applications

Residential | NCC Class 1

NCC / OTHER REQUIREMENTS
FRL
ACOUSTIC
COMMON WALLS
LOAD BEARING PARTITION WALL
COMMON (PARTY) WALL
SYSTEM PERFORMANCE
Can apply to some common (party) walls
Separating rooms within the building
Separating buildings
Separating habitable room (other than a kitchen) in one building from a wet area in another building
System Components
Dincel Profile
Min. Plaster board Thick-ness
Total Wall Width
Rw (Rw+Ctr)
Maximum FRL achievable
Up to 60/60/60² FRL
No acoustic req.
Meets acoustic req. (Rw + Ctr ≥ 50)
Meets acoustic req. (Rw + Ctr ≥ 50 and discontinuous)

left bare

left bare

110
N/A
110
48 (43)
90/90/90¹
✔
✔
-
-
155
N/A
155
51 (45)
180/180/180¹
✔
✔
-
-
200
N/A
200
53 (48)
240/240/240¹
✔
✔
-
-
275
N/A
275
53 (48)
240/240/240¹
✔
✔
-
-

plasterboard

left bare

110
10
120
45 (41)
90/90/90¹
✔
✔
-
-
155
13
168
50 (45)
180/180/180¹
✔
✔
-
-
200
10
210
51 (46)
240/240/240¹
✔
✔
-
-
275
10
285
51 (46)
240/240/240¹
✔
✔
-
-

plasterboard

plasterboard

110
10
130
45 (41)
90/90/90¹
✔
✔
-
-
155
13
181
50 (45)
180/180/180¹
✔
✔
-
-
200
10
220
51 (46)
240/240/240¹
✔
✔
-
-
275
10
295
51 (46)
240/240/240¹
✔
✔
-
-

plasterboard

28mm furring channels (600 c/c, 30mm cavity), plasterboard

110
13
166
45 (42)
90/90/90¹
✔
✔
-
-
155
10
205
48 (43)
180/180/180¹
✔
✔
-
-
200
10
250
53 (46)
240/240/240¹
✔
✔
-
-
275
10
325
53 (46)
240/240/240¹
✔
✔
-
-

plasterboard

28mm furring channels (600 c/c, 30mm cavity), 25mm glasswool (HD), plasterboard

110
10
160
53 (46)
90/90/90¹
✔
✔
-
-
155
10
205
55 (48)
180/180/180¹
✔
✔
-
-
200
10
250
57 (50)
240/240/240¹
✔
✔
✔
-
275
10
325
57 (50)
240/240/240¹
✔
✔
✔
-

28mm furring channels (600 c/c, 45mm cavity), 25mm glasswool (HD), plasterboard

28mm furring channels (600 c/c, 45mm cavity), 25mm glasswool (HD), plasterboard

110
16
232
63 (50)
90/90/90¹
✔
✔
✔
-
155
13
271
60 (52)
180/180/180¹
✔
✔
✔
-
200
13
316
63 (54)
240/240/240¹
✔
✔
✔
-
275
13
391
63 (54)
240/240/240¹
✔
✔
✔
-

left bare

51mm steel studs (600 c/c, 71mm cavity), plasterboard

110
10
191
51 (43)
90/90/90¹
✔
✔
-
-
155
10
236
54 (45)
180/180/180¹
✔
✔
-
-
200
10
281
57 (47)
240/240/240¹
✔
✔
-
-
275
10
356
57 (47)
240/240/240¹
✔
✔
-
-

plasterboard

51mm steel studs (600 c/c, 71mm cavity), 50mm glasswool (LD), plasterboard

110
13
207
57 (50)
90/90/90¹
✔
✔
✔
✔
155
13
252
63 (51)
180/180/180¹
✔
✔
✔
✔
200
10
291
61 (53)
240/240/240¹
✔
✔
✔
✔
275
10
366
61 (53)
240/240/240¹
✔
✔
✔
✔

28mm furring channel (600 c/c, 30mm cavity), plasterboard

51mm steel studs (600 c/c, 71mm cavity), plasterboard

110
10
231
47 (41)
90/90/90¹
✔
✔
-
-
155
10
276
51 (43)
180/180/180¹
✔
✔
-
-
200
10
321
55 (46)
240/240/240¹
✔
✔
-
-
275
10
396
55 (46)
240/240/240¹
✔
✔
-
-

28mm furring channel (600 c/c, 30mm cavity), plasterboard

51mm steel studs (600 c/c, 71mm cavity), 50mm glasswool (LD), plasterboard

110
13
237
57 (50)
90/90/90¹
✔
✔
✔
✔
155
13
282
63 (51)
180/180/180¹
✔
✔
✔
✔
200
13
327
61 (53)
240/240/240¹
✔
✔
✔
✔
275
13
402
61 (53)
240/240/240¹
✔
✔
✔
✔

28mm furring channel (600 c/c, 30mm cavity), 25mm glasswool (HD), plasterboard

51mm steel studs (600 c/c, 71mm cavity), 50mm glasswool (LD), plasterboard

110
HD13
237
62 (50)
90/90/90¹
✔
✔
✔
✔
155
HD13
282
67 (52)
180/180/180¹
✔
✔
✔
✔
200
HD13
327
68 (53)
240/240/240¹
✔
✔
✔
✔
275
HD13
402
68 (53)
240/240/240¹
✔
✔
✔
✔
External Applications

Residential | NCC Class 1

NCC / OTHER REQUIREMENTS
FRL
WATERPROOFING
EXTERNAL WALLS
BASEMENT WALL
FAÇADE, BALUSTRADE OR BLADE WALL
TANK OR POOL WALL
RETAINING OR PLANTER BOX WALL
SYSTEM PERFORMANCE
Where a FRL is required
Above the water table
Underneath the water table
Seperating exterior environment from interior
Exterior environment on both sides of the wall
All
All
System Components
Dincel Profile
Total Wall Width
Maximum FRL achievable
Up to 60/60/60² FRL
Waterproof
Submerged conditions
Waterproof (and includes insulation)
Waterproof
Waterproof
Waterproof

left bare

left bare

110
110
90/90/90¹
✔
✔
.-³
✔
✔
✔
155
155
180/180/180¹
✔
✔
.-³
✔
✔
✔
200
200
240/240/240¹
✔
✔
.-³
✔
✔
✔
275
275
240/240/240¹
✔
✔
✔³
✔
✔
✔

choice of finish: paint, render or cladding

left bare

110
110
90/90/90¹
✔
✔
.-³
✔
✔
✔
155
155
180/180/180¹
✔
✔
.-³
✔
✔
✔
200
200
240/240/240¹
✔
✔
.-³
✔
✔
✔
275
275
240/240/240¹
✔
✔
✔³
✔
✔
✔

left bare

50mm+ cavity, secondary wall for habitable room (either 110 Dincel, lightweight partition, masonry or dry wall)

110
283
90/90/90¹
✔
✔
.-³
✔
✔
155
328
180/180/180¹
✔
✔
.-³
✔
✔
200
373
240/240/240¹
✔
✔
.-³
✔
✔
275
448
240/240/240¹
✔
✔
✔³
✔
✔

choice of finish: paint, render or cladding

40mm insulation board, 28mm furring channel on clips, 13mm plasterboard

110
191
90/90/90¹
✔
✔
155
236
180/180/180¹
✔
✔
200
281
240/240/240¹
✔
✔
275
356
240/240/240¹
✔
✔

110mm brick veneer w/20mm cavity

40mm insulation board, 28mm furring channel on clips, 13mm plasterboard

110
321
90/90/90¹
✔
✔
155
366
180/180/180¹
✔
✔
200
411
240/240/240¹
✔
✔
275
486
240/240/240¹
✔
✔

Insulated panel system on top hats

28mm furring channels on clips, 13mm plasterboard

110
268
90/90/90¹
✔
✔
155
313
180/180/180¹
✔
✔
200
358
240/240/240¹
✔
✔
275
433
240/240/240¹
✔
✔
The 'NCC/Other requirements' information provided above is for guidance purposes only please check with your consultants for specific requirements for your project.
The above requirements are based upon the NCC deemed-to-satisfy provisions (Part 3.7.2.4 and Part 3.8.6)
The above performance is based on the following product densities:
10mm thick plasterboard - 650 kg/m³ bulk density
13mm thick plasterboard - 623 kg/m³ bulk density
HD13mm thick plasterboard (HD = High Density, typically fire rated plasterboard) - 808 kg/m³ bulk density
16mm thick plasterboard - 766 kg/m³ bulk density
25mm thick glasswool insulation (HD) - 24 kg/m³ bulk density
50mm thick glasswool insulation (LD) - 11 kg/m³ bulk density
Concrete within Dincel formwork - 2350 kg/m³ bulk density
¹Dependant on design and wall loading. 'Structural Adequacy' component of FRL must be calculated and provided by the project's structural engineer, in accordance to AS3600, Eurocode or other relevant concrete design codes.
²FRL requirement is based upon a wall with a distance of less than 1.5m from a fire source feature. Please check the NCC for other FRL requirements which may be applicable to your project.
³Dincel recommends the 275 profile for permanently submerged applications due to enhanced design. For more information please refer to waterproofing documentation on our website.
Residential Case Studies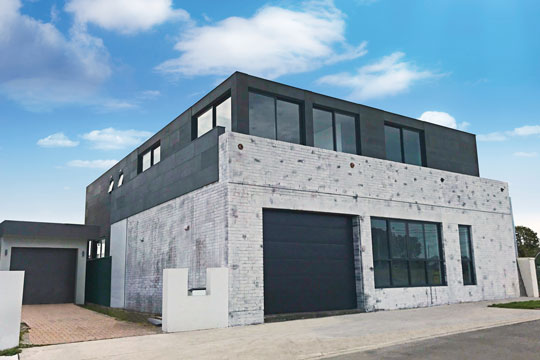 Residential Home Development
Jun 2019
A formwork and scaffolding business which constructs buildings in the commercial, industrial and high-rise residential sector for private and public companies, Formscaff proudly uses Dincel Structural Walling to complete structures quickly, safely and more cost-competitively than others.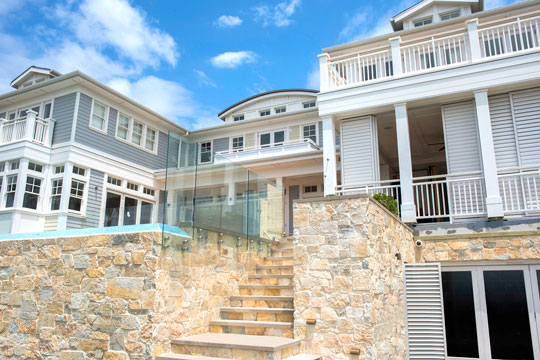 Thomas Street Project
Oct 2018
Located in the eastern Sydney suburb of Bronte, the house sits on a large sloping block. Given its location near the beach, the block is fairly sandy and is only accessible via narrow local streets.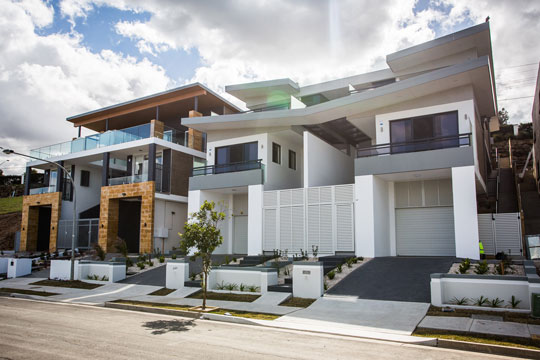 Luxury Homes
Apr 2018
Winston Hills is home to a new model of luxury living in Moses Way – a private estate populated by architecturally designed multi-million dollar residences where Dincel has proved itself to be a model building material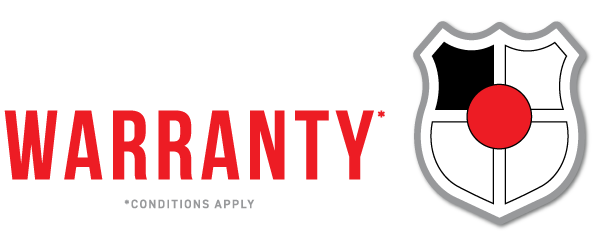 In an Australian first, Dincel is offering a void free warranty when you choose to pour your Dincel Structural Walling with Self-Compacting Concrete and the installation is to Dincel's specifications.